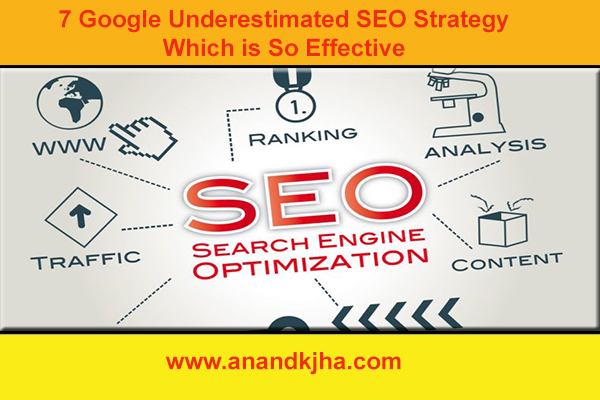 5 Google Underestimated SEO Strategy Which is So Effective
Search engine optimization is one of the top 10 skills of learning in the world. Linkedin report on top learning and highly paid skills of the world. This report by Linkedin listed the top skills with their progress. This report says that the demand of marketers is slowing down due to not able to fulfill the demands of the employer. This is true because there most of the time demand is quick results for leads and conversions.
A good SEO expert knows that it takes time depending upon their niche competition on Search real estate. Let me give you an example, let's say if I want to rank for #1 on SEO in one month. Is it possible to get this rank for the new website? Then how it is possible to meet the employer demand and your belief about SEO?
I am not demotivating by my post. But, I am going to share some underestimated Google SEO strategies which will meet the employer demand.
This SEO strategy is underestimated by many experienced SEOs due to lack of resources and experts.
But, I am sure if you are going to implement this strategy you will win your marketing campaign.
There are number of strategy  for Google SEO but some of them are underestimated by SEO's  these are
1.On page SEO
Starting with basics of Google SEO, on page optimization is the basic step but most of us not able to do sure shot on page optimization. This is due to lack of your keyword research, CMS problems, the large number of pages, lack of coordination between technical team, and lack of time.
According to me, these are the main reasons of not 100% on page SEO. I am sure if we do 100% on page SEO for the page then we can improve the ranking of the page by 60-70% within a month.
Most of you know about meta tag optimization but on page SEO is not that's it.
There are more than 11 on page SEO factors and meta tag optimization is 20% of on-page SEO.
In these factors page speed and mobile friendly are major. Most of us skip the step of page speed improvement but this is one of the ranking factors of Google.
2.Infographics
Infographic is the best content type which can be used for creating backlinks and branding of the business. Guestographic is a procedure of creating the infographic for another website in return of do follow backlink and reach. This guestographic strategy not only boost your ranking but also traffic and leads. Most of us deny this due to lack of engaging content, needed high research with data, needed a graphic designer and etc.. This is the best strategy for SEO and marketing.
3.Guest Posting
Guest posting is a way of creating high-quality backlinks and conversions by writing for others. Many SEO's supports this strategy but very few successfully able to build strong backlinks with this method.
But why?
The reason this also required a bit of research for high authority guest posting webmaster, high quality and long content, HD and unique and relevant images, previous writing experience.
I am sure if you use this underestimated strategy you will able to bring right audience and conversions.
4.Content Promotion
Most of us like to add content but very few invest time and money on promotion of content. Best SEO's says that your content marketing implementation must be laid on the ratio of 40% on content creation and 60% on content promotion.
So content promotion is very very important.
5.Podcast Marketing
People like to hear audio, so if you have a podcast for your content then it will be easier and faster to understand your post. There are lots of high authority platforms where you can share your podcast like ReverbNation, Soundcloud, etc.. including YouTube.
Source:  https://www.anandkjha.com/7-google-underestimated-seo-strategy-effective/