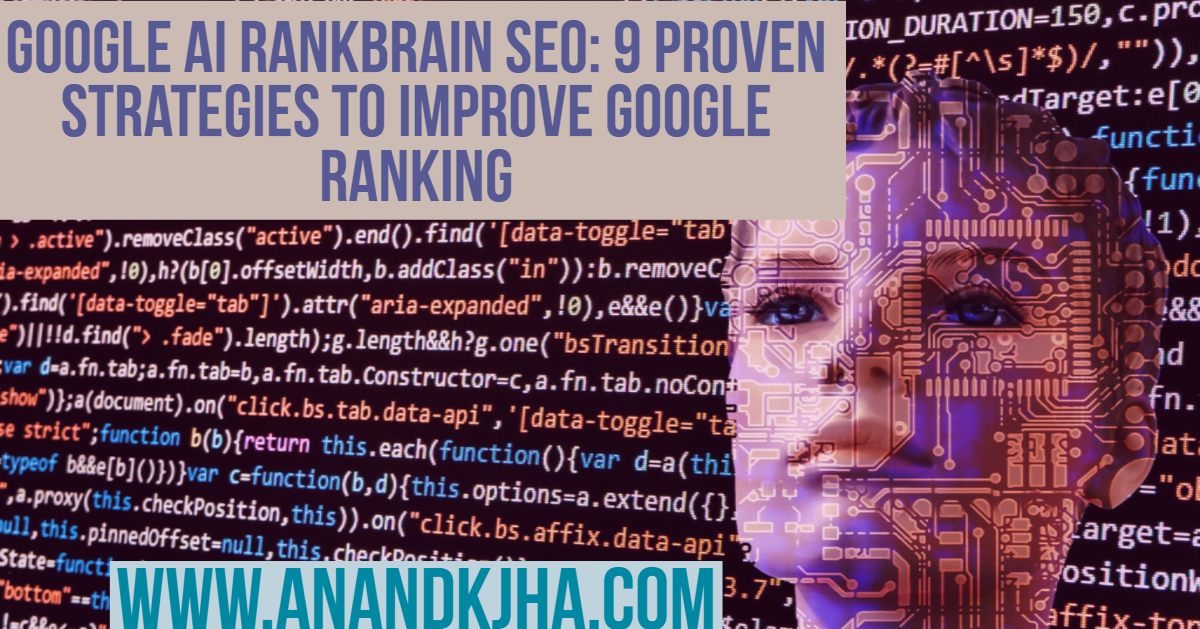 Google AI Rankbrain SEO: 5 Proven Strategies to Improve Google Ranking
Do you want to know about the secrets of Google AI Rankbrain SEO? In the coming era of artificial intelligence, Google AI Rankbrain SEO will play a major role in search engine ranking.Let's learn about some sure shot secrets of  Google AI Rankbrain SEO.
Have you ever thought that why sometimes your keyword which is on 7th rank goes to the third rank and after some time it moves to rank 6? This is controlled by machine learning algorithm known as Google Rankbrain.
Today, I am going to reveal here some secrets about Google SERP setup by machine learning algorithm known as Rankbrain.
Rankbrain is a machine learning algorithm designed by Google engineers. According to their study and research, Google engineers found that Rankbrain gives more accurate and relevant results to users.
That's why Rankbrain will be used for Google SERP setup.
I think this is enough to tell you something about Rankbrain.
Most important is that how you can optimize your web pages for Google Rankbrain.
Here, I am going to share 9 strategies to improve your Google ranking through Google AI Rankbrain SEO.
#1 Mobile friendly Pages
#2 Improve Page Speed
#3 Control Bounce Rate
#4 Improve Dwell Time
#5 Improve CTR
#6 Add-on LSI keywords with the long content
#7 Work on readability of the page
#8 Add internal links & High authority outbound links
#9 Implement Structured Data
Without taking your much time, let's elaborate these above points.
#1 Mobile Friendly Pages
Make your website mobile friendly. You have read so many times this point. But, I want to add some more things to it.
Making mobile-friendly pages include the mobile version pages.
Accelerated Mobile Pages
Optimized Images
Avoid Popups
Make text, video, and slides readable, clear & errorless.
#2 Improve Page Speed
This is the most important point because many websites compromise with this.Many websites use heavy large images, popups, ads, sounds, and slider to make their website more eye appealing. But the fact is that if your website doesn't open within 10 seconds you will lose more than 50% audience. You can check your website pages speed and traffic lose on Google Test My Site.
How can you improve the page speed?
Optimize images
Avoid Popups
Avoid heavy ads
Leverage browser caching
Enable Gzip Compression
etc… A good web developer can help you in this.
#3 Control Bounce Rate
Let me first explain you about bounce rate.
Bounce rate is a percentage of users who visited your single page without interacting with your other landing pages within a defined time period.
Most of the user who visited your website interact with the single page. You need to make them interact with your other pages also.
How can you do this?
How to control bounce rate?
These tips will help you to control bounce rate:
Add more internal links
Use related post links in mid & end of the post
Add offer, giveaway, contest, etc.. links with an optimized small banner
Use easy navigation
Ideal Bounce Rate
For Blogs: 70% to 85%
For E-commerce websites: 20% to 30%
#4 Improve Dwell Time
What is dwell time? Dwell time tells how long user stays on your landing page. Dwell time is important. Google AI Rankbrain collect data on dwell time of every website.
How to improve dwell time?
Follow these tips to improve your dwell time:
Use internal links
Add related post links
Add video and podcast
Add a long content on the page of more than 1000 words.
#5 Improve CTR
CTR is click through rate. Google AI Rankbrain collects the data on CTR of the particular search result.
How can you improve the CTR of your results?
Follow these tips
Do meta tag optimization-increase the relevancy of result to query
Use copywriting techniques
Follow the limit of meta tags
Source: https://www.anandkjha.com/google-ai-rankbrain-seo-9-proven-strategies-to-improve-google-ranking/